As I think I mentioned, over the next few months, I'm going to introduce you to some of my favorite installations by our distributors. They've installed disappearing retractable screens in some great locations and fabulous properties, so I want to share them with you!
So let's start with a project that's local to us. As you probably know by now, we're based in Abbotsford, British Columbia, Canada. It's a truly beautiful part of the world – bordered by snow-capped mountains and the Pacific Ocean. It's an incredible place to be – and we all love to have a clear view of our surroundings!
Sitting between us and the Pacific Ocean is Vancouver Island – which has a rugged beauty all of its own. And about half way up the Island on the eastern side is the Comox Valley, which is where our Authorized Distributor is based.
And Island Screening Systems gets to do installations in some pretty spectacular locations – like this one. It's called the Forever House, and I imagine on a clear day, it must feel like you can see forever.
The home is designed to be as unobtrusive as possible with the surrounding forests and ocean as well as making the most of its southern exposure.  It has a gorgeous covered patio with amazing views of the ocean, which the homeowners love. However, they didn't want a permanent screen room to compromise those views. That's why they liked Phantom's Executive motorized retractable screens.
Not only was preserving their ocean view important, but one of the homeowners is severely allergic to bee and wasp stings so they needed a screen solution to really banish the bugs from their patio.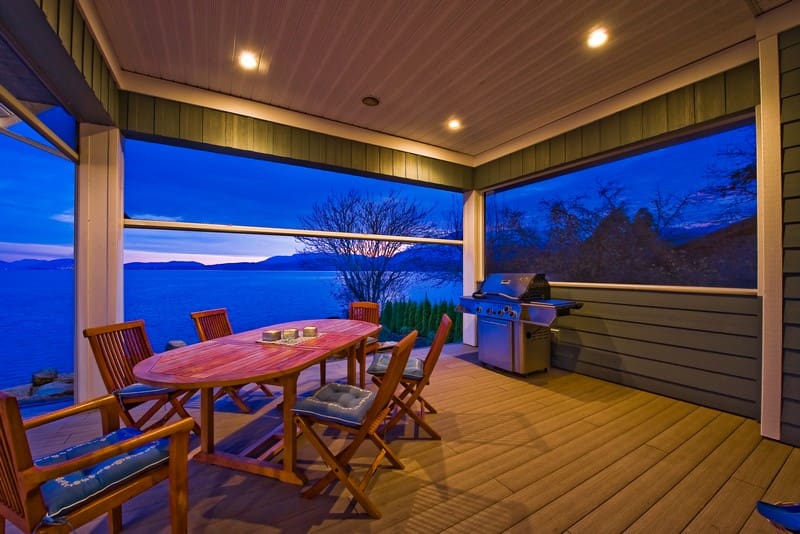 After a detailed consultation process with the architect, builder and homeowner, two custom made, surface mounted, Executive motorized screens were installed onto the covered deck. When the screens are lowered into place the patio becomes a safe haven from insects, but when the screens are retracted, the deck once again becomes an outdoor living space with that spectacular ocean-front view.
And what did the homeowners think of their new home feature? Well, I think I'll let them use their own words: "Our screened deck has enabled us to live the West Coast outdoors dream. We spend more time outside than we ever thought possible!"
How about that for a pretty awesome installation, eh?