It's true. I love Christmas. I love it for all its cheeriness and squirelly fun. I love it for what it means – but more of that in another post. And I love it because at Phantom Screens it means our annual Christmas Pot Luck lunch.
I look forward to this event all year. Not just because of the great food that everyone brings – and it is great food. Or because it's the chance for me to escape the confines of my office and chat to all the people who work at Phantom. I love it because it's a day when we all get together and laugh and talk and celebrate. It's just great fun.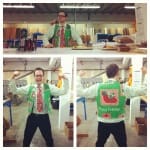 Richard from marketing took the Ugly Christmas sweater idea to heart.
So the first thing you need to know is that Pot Luck lunch day is also Ugly Christmas Sweater day at Phantom Screens.
Thanks to the Shipping Team for that idea – it's now getting really popular with everyone here.  For something so frivolous, it's actually taken pretty seriously – as this picture amply demonstrates!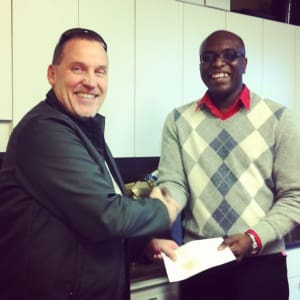 Les Talvio from the Cyrus Centre accepts a cheque from our Brand Marketing Manager, Paul Ackah-Sanzah
This year, we've celebrated our 20 years in business. And because one of our Vision and Values is to Practice Stewardship, part of our celebration was to fundraise for the Cyrus Centre – my recent post talked about why we support them.
We were also able to welcome Les Talvio, the Executive Director of the Cyrus Centre, to our lunch (even though he didn't have an ugly Christmas sweater) and make the presentation of a cheque from all our fundraising. And you know, being able to give back to our community, even in a small way, makes our Christmas celebrations more meaningful. It gives us the chance to make a difference in our home town.
Then I had the joy of presenting some long service awards to some of our staff members. There were some for five years of service, some for ten and even one for 15 years. It's pretty awesome that people like to stay at Phantom Screens. The long service awards are a testament not only to the recipient's longevity but give us an opportunity to thank them individually for their talent, their commitment and their contribution.
And finally we have two fun things to do. The first is to reveal who got who in our Secret Santa. Last week, those participating put a gift in the Christmas stocking of their nominated person each day of the week. The stockings are all hung along our balcony in the reception area at Phantom Screens. We all love to guess who our Secret Santa was and nothing beats the happy groans and smiles that greet the revelations!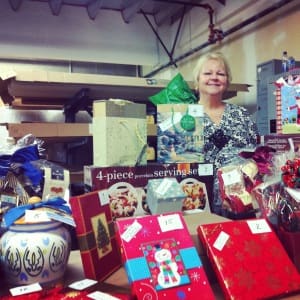 Our HR Manager Patricia and her now legendary fundraising raffle
Last, but never least, our HR manager Patricia, organizes a fantastic raffle every year. Prizes come from suppliers, staff contributions and other sources and include everything from hockey tickets to iPods, candlesticks to gift cards. It's another fundraising opportunity and a much loved part of Christmas Pot Luck day. Thank you Patricia.
So there you have it. Christmas Pot Luck Lunch at Phantom Screens.
Just because we build retractable screens and spend our lives helping people enjoy the best of summer, doesn't mean we can't enjoy ourselves in the midst of winter!
Do you celebrate Christmas with your workplace? What are some of your festive work traditions? I'd love to know your stories…