I love seeing our retractable screens in action. This beautiful New England home was built in 1950 and is an exact replica of a 1780s Sea Captain's home. However, the homeowners wanted to have modern conveniences as well as the traditional styling of a heritage home.
Phantom's Executive motorized retractable screens were a perfect solution for their porch providing protection from bugs, as well as allowing them to enjoy outdoor living and preserve the view of their yard.
The porch's classic style and authentic materials dictated that the screens must roll up completely out of sight when not in use. The thing the owners love (and I do too!) is that the disappearing screens can be lowered at the touch of a button on a remote control or a control pad located near the door.
And when the New England winter arrives, the screens are safely stored in their housings until they are needed the following spring.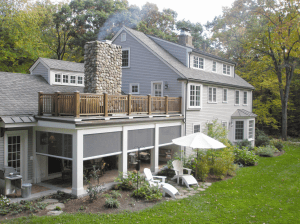 Executive motorized screens protect the porch from bugs