I love New Year's for the chance to look forward. I wrote last year about how the Japanese celebrate the rising of the sun, rather than the passing of the year. However this year I want to take the opportunity to look back at 2013.
I don't want to boast about the Phantom family like a cheesy Christmas letter (which always land up making me feel inadequate or unworthy!), but I do want to just take a moment to wrap up the year.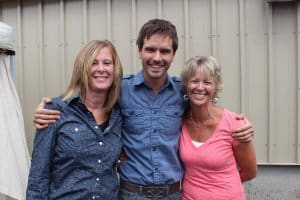 (from L to R) Me, Graham and my best friend Hilda
You know, we're pretty fortunate really. As a company we are in our 21st year, but we continue to experience firsts. So in the spirit of celebration here's a list of eight of our "firsts" in 2013.
1.  2013 was the first year we held our Christmas party in our warehouse.

We transformed our warehouse for a Christmas Rocks party!
2.  We gained a new VP of Sales – Ross Tripp – and he introduced himself to the company via video
3. Another first in our history – we added Home Depot USA to our customer list.
4. Our first ever national on-line campaign "Breeze Through Europe" was launched
5. And our first ever intentional foray into the digital universe of social media. That's right you can follow us on YouTube, Twitter and Facebook, Pinterest and Google Plus as well as this blog!
6. Another first – we got involved in a big way with the City of Abbotsford this summer by sponsoring all three days of the Pro Rodeo so that everyone in the Fraser Valley could attend for free!  And yes, this first was made much funner (Is that a word? It is now!) because we raised money for the High River, Alberta flood victims with bake sales and bringing in a certain celebrity from the hit TV series Heartland, Graham Wardle. Picture above!
7. 2013 has been a record year of sales for our Executive motorized product selling over 5,500 of them
8. And finally, but linked to number 7 – we increased our staff numbers in November (which is typically our second slowest month) to keep up with the unexpected high amount of Executive screens being sold
So, let me wrap up by saying "what a year!" We had many challenges – most of which we've overcome – as well as many wonderful firsts and many incredible repeats.
I've said it before, and I expect I'll say it again, but Phantom Screens is much more than me.
It's made up of incredible people who are passionate about delivering great service to our customers and producing amazing quality products. Without them Phantom Screens wouldn't exist. So, thank you to them. And thank you to you my readers.
May 2014 be a year of joy and fulfillment for all of you.