You've heard the story of my fight to save my kitchen sink by now. If you haven't check out Episode 11 of the Southern Romance web TV series and you'll get to hear the story (and see the sink!)
The sink is a beauty. It kind of symbolizes what I wanted to do with the Southern Romance house when I bought it: take it from old and neglected and rough around the edges and awaken its original beauty – while preserving the home's history.
Who knew that an old white enamel sink could be a metaphor for a big home restoration project? But it was.
So I fought and pushed and got all stubborn on the folks that tried to throw my drain board sink away. I argued and ranted and may have even stamped my foot in frustration (OK, that bit's probably not true). But then a truly wonderful thing happened.
I got my way.
No, that wasn't the wonderful thing – although I was happy I did.
My good friends at Kohler came on board with my project as sponsors. Now you might associate Kohler with ultra-modern bathrooms and ultra-cool kitchen fixtures and fittings – but that's not all they do and that's where I got to have fun.
Their catalogues are beautiful and jam packed full of shiny chrome and porcelain goodness. I was able to choose faucets and taps and pot fillers and more that perfectly suited the Arts & Crafts / Victorian design style of my home.
Now, you may know that I sometimes take a little while to decide on things.  If you asked my co-worker Richard about how long into the night it took me to order lights – as well as how many pages of catalogues I spread across a very large B&B dining room table – he might give you a less than flattering impression of me.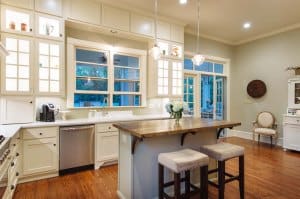 But when it came to my kitchen sink I was laser-like in my focus. My heart and my head combined in total harmony and I zeroed in on the perfect Kohler faucet. It was the right style, the right colored metal and was exactly what I wanted.
And that's when the second wonderful thing happened.
Not only was my sink saved from the dumpster. Not only was it re-glazed to a brilliant white shine. Not only was it installed in my amazing kitchen.
But the Kohler faucet fit.
It did. Despite the sink being ancient and the faucet and plug hole being created decades ago, Kohler's hardware was a perfect match.
So my little dream of a drain board sink came true. And a little bit of history was preserved.
Sometimes joy can be found in the strangest of places.d
Full disclosure: this was a sponsored post as part of the Southern Romance project. I am truly grateful to all our amazing sponsors for helping me to restore the Morgan-Ford House in Mobile, Alabama.
The products I chose from Kohler included faucets and fittings from the Artifacts range, vanities from the Damask and Albery ranges, and Portrait and Kathryn sinks. You can find them all on the Kohler website at www.kohler.com