To all the women who are moms by birth, adoption, mentoring, aunt-ing, friendships, in-laws, I say: "Happy Mother's Day."
I feel spoiled to say I've been blessed with a few special women who have filled that role for me – some knew it because it was official and others maybe not, but they filled it never the less.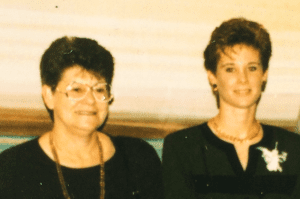 The last picture I have of me with my mom in 1989.
First is Mom, my real Mom. The one who loved me, fed me, sewed clothes for me, read to me, wiped my tears, bandaged my owies, helped me with homework, even wrote lines for me when she thought the teacher's punishment was a little harsh. My Mom who gave me my passion for gardening, house design, shopping in kitchen stores and making lists.
And best of all, my Mom who taught me to love myself, to love others and above all, to love the Lord.
Next is my Mother-in-Law or Ma as I call her. There are a lot of jokes about this topic but I can honestly say I fell into the honey pot on this one. I have known and loved my M-I-L, for almost 35 years now – in fact that's almost 15 years longer than my Mom. She has always treated me and the other wives of her four sons as her very own daughters since she didn't have any of her own. She is always interested in what I'm up to even though at times she shakes her head, but even then I know she loves me and hopes the very best for me.
And because my Mom left this earth when I was just first married in my early 20's, my oldest brother's wife naturally filled a mom role too, especially when we had our two daughters. She was the one who first took care of my oldest while I figured out this working Mom thing and was my go-to-mom whenever I needed mothering advice.
My oldest never called her Aunt Joyce, rather Happy Joyce and the name has stuck ever since.
And my newest but oldest Mom – I've talked about meeting her in my Southern Romance adventure – Miss Katherine – who I call my Southern Mama. Everyone should have one of those. She's my little piece of home when I'm in Mobile, always welcoming me for a visit to hear my stories and for me to hear hers.
I told her a couple of weeks ago I've decided when I grow up I want to be like her – 93 and still minding my antique store, driving myself around, living in my own house filled with memories, pictures, and vintage finds. And nothing puts a smile on my face more than when I ring her up from home in BC and I hear that southern high-pitched drawl question: "Esta? Is that you? Well, hellllooo dahling!"
I'd be disrespectful if I ended this tribute to Mom's on Mother's Day without recognizing the many, many mothers who brought a child into this world but selflessly denied herself the love, joy, and happiness her child would bring her, by giving her baby – her flesh and blood – to another family to love and nurture.
To these women, a special thank you and in that I include my own birth mother who I never met. May the Lord bless you for your sacrifice and may you recognize you did for us what God did for you and me.