What's the written version of being "speechless"?
Because that's what I am. Really.
I've come to realize the more terrific of an experience, the more trouble I have articulating my thoughts and feelings.
So this happened. I am CEO of Phantom Screens. I check #67 off my Bucket List: to restore a house in the South.
I find the family who bought the house 100 years ahead of me. I invite Miss Myrt, the oldest living family member of age 92 to Mobile, Alabama for a Tea Party on the very porch she grew up on. She agrees to come all the way from California.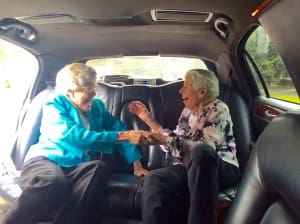 The happy reunion of best friends for 92 years
We surprise her best friend, Miss Katherine in Mobile, also 92 years old.
And I invite Miss Beverly, the CEO of our screen mesh manufacturer, Phifer, who is also a Southerner and an old friend of mine to join us for tea.
It all happened this past Wednesday.
To say it was magical is an understatement. Maybe more like surreal, unbelievable, beautiful, once in a lifetime. Those kind of words come to mind.
For me but for them too.
I'm not sure there is a much funner thing to do for someone who has lived a full, long, good life than giving them an experience that is brand new as well as creating a reunion of deep friendship.
I wish you could've all been there to see it and feel it with me.
I don't know where my absolute fondness of old people came from but I got it bad. Maybe because I wish my parents were still with me.
I just want everyone to treat 'antique' people no differently than how we would treat an antique heirloom – with special care, precious admiration, respect for what they have seen and experienced and patience for the slower working parts or for the parts which don't work any more.
Sitting a spell with two amazing Southern ladies
It was hard to say good bye to them.
We've gone from acquaintances to feeling like family, bonded simply by sharing the same address at 257 Rapier Avenue, Mobile, Alabama.
So the next time you are behind a white-haired driver or waiting for a bent-over aged pedestrian, remind yourself of the value of that antique.
I am pretty sure a lot of you have a favorite 'antique' person you wish to celebrate too, right? I'd love to hear your stories about them in the comment section or email me at

[email protected]