I could get all romantic on you again.
You know, write about the pleasures of eating dinner under my much-loved wisteria. Or listening to the happy sounds of the Pacific Chorus frog chirping in the twilight. Or even the ear-shattering sound of blueberry cannons booming across the valley to scare the birds.
OK. So the last bit wasn't that romantic was it? But that's the realities of outdoor living. It's not just about creating beautiful moments of stillness or appreciating the fruits of laboring in the garden. It's about embracing all the sights and sounds and smells that the outdoors has to offer. (And living next to a chicken ranch in the heart of an agricultural valley, believe me I know what I'm talking about when I mention smells!)
I love summer living outside and one of the great things about it is that it gives you permission to be messy!
It allows you to have family gatherings that last too long into the night. It lets you spill drinks without worrying about polished tables. And best of all it allows people to relax, unwind and feel part of our family. Outdoor living is liberating and, for us, it's where we can get big groups of friends and families together. For celebrations, for parties or well, just 'because'. When you're cooking on your grill or entertaining outside you don't need to worry about mess – you can just enjoy yourselves.
This year is a little bit special for us. This year our outdoor entertaining will include an 18th birthday party for our daughter who is heading off to college in the fall. And as hard as it will be to wave her goodbye, knowing we can have a great big party in our yard to combine birthday celebrations with a going-away send-off makes me really happy.
Here at Phantom Screens too, we're all big fans of outdoor living. Of course, I need to include a shameless plug in my blog for our products which help to bring the best of outdoors, indoors. I'm sure you'll take a look at what we have to offer, but hopefully you'll get to understand why we think they're great. For example, enclosing your porch or deck with our Executive motorized screens, lets you have a family dinner al fresco annoying mosquitoes or other flying insects.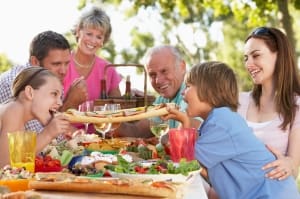 Getting the family together is easy outdoors
And now, as we stretch into the long days and lazy nights of summer, I'm looking forward to being surrounded by planters, pots and hanging baskets which are abundant with flowers and color. I'm planning on spending time sitting and enjoying the sunshine with my dog by my side – just appreciating the good things that being outside has to offer.
It's often the simple things that are the most precious in life including enjoying living outdoors: the joy of family, the caress of a gentle breeze and the sound of laughter under the stars.
Sorry. That ending was a bit romantic wasn't it?
What do you love most about summer? What's the best thing about your backyard? I'd love to know your thoughts!