There's nothing like New Years to get you thinking about the future. It's a bit like the thrill of a new book, or the smell of a new car. It's tantalizing and exciting and rich with possibility.
I've always thought there are two ways to celebrate a new year: by looking back or by looking forward.
Here's the thing though: looking back can remind you of what might have been, or what could have happened. It can fill you with melancholic thoughts or regrets. Sure, it can also cause you to be thankful for things – and celebrate achievements. And looking back can also be a great instructor- after all, history is written by looking back. But negativity about what might have been can cast a shadow over your soul like a storm cloud.
Without doubt, there's a time for reminiscence and reflection. But there's also a time for looking forward and relishing the thought of the new, and the uncharted.
To me, that's what New Years is all about. That's the joy of celebrating the chimes of midnight.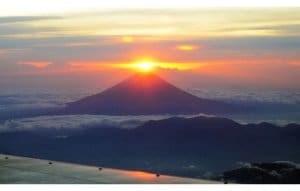 The sun rising over Mount Fuji, Japan © JIJI Press/AFP/Getty Images
I have a friend who lived in Tokyo, Japan for several years. And what she loved about New Years in Japan was that they celebrated the rising sun on January 1st, not the dying hours of December 31st.
It's only a couple of hour's difference, but to me it crystallizes in action, what I really feel New Years is about. A new year is a chance to start again. It's a chance for us to commit to make changes that will make a difference. Not in the kind of tired old list of resolutions way, but in a belief that this New Year will genuinely provide us with opportunities that we hadn't imagined and experiences we could only dream of.
We don't know what 2013 will bring. We don't know what challenges we will have to face. But we can have faith that we will have the strength to see it through and hope that we will have much to be grateful for this time next year.
So as we look forward into 2013 I'm choosing to do so with the brightness of the rising sun in my mind and unflinching hope in my heart.
Happy New Year!
What are you looking forward to in 2013? What do you hope to achieve this year? I'd love to know your thoughts…