Oh my. Every now and again I get to see a project featuring our products and want to move in immediately. And this is one. It's gorgeous, a farmhouse and in the heart of the romantic South – so it makes my heart sing!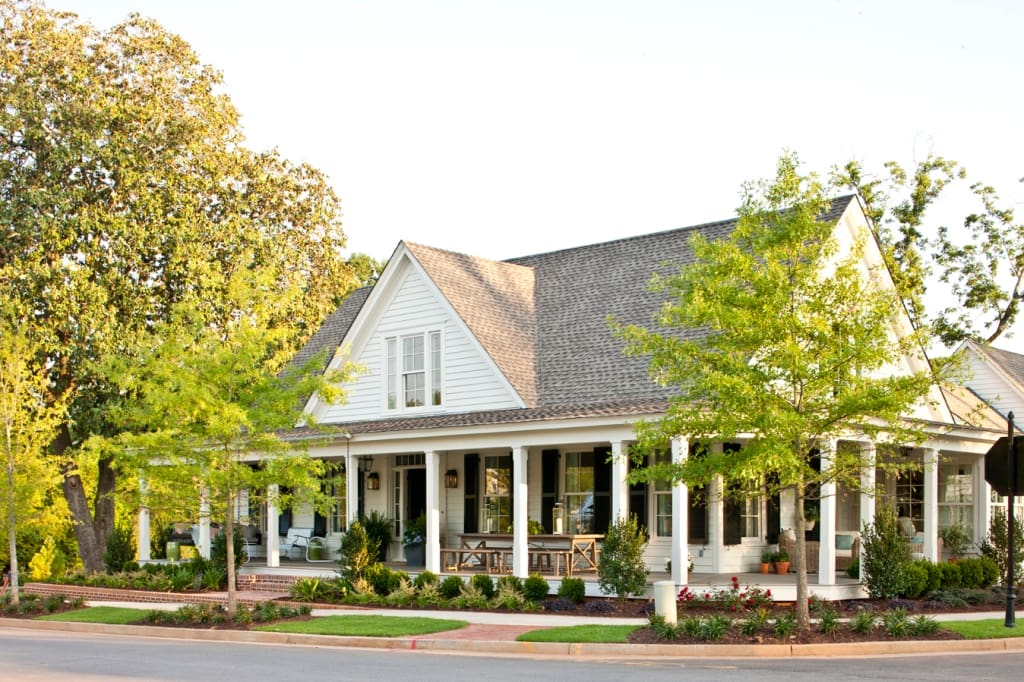 The Southern Living Idea House in Senoia, GA
I have spent a small amount of time in the South, and I just love it.
When I'm there I take every chance I can to find an antique for my own home to take with me – just so I can have the South with me up here in Canada. You know, even my front parlor fireplace mantel is from the South.
I must confess I'm just an old romantic at heart.  My entire view of the South is entirely a mind-conjured image, influenced by novels, movies and photographs, because my visits have all been either deep in the mountains or in the bustling cities.
To me, the South means all towns are Mayberry and Aunt Bee, playing out at a slow trot, while neighbors enjoy each other's company. Going into town means more than the errand at hand and is all about stopping to say "hello". And in my mind it means never having to wear a winter coat. Kids can play safely on the street, tire swings hang lazily from front yard trees.
But most importantly everywhere you go there is love in the air for each other – for home and for the many blessings experienced by living in the South.
So now to this wonderful Georgian home in Senoia, GA. It actually featured in Southern Living magazine as an Idea House. You can read about it here.
I love the way the home design captures perfectly the soft charm of balmy hot summer nights on the "porch" – front, side and back. And I really like the muted hues of the interior décor because I know they would calm my busy soul.  The designers have made sure every tiny Southern detail is in place – from the front entry copper lanterns, authentic shutters and Georgian porch fan to the boxwood greenery and flat board siding on the back porch and interior walls.
Maybe it's because I started my career as an accountant, but I find huge comfort in order. And that's true here too – the symmetrical feel of the exterior puts me in an "all is right with the world" frame of mind.  Of course, I love it because it's a farmhouse, but also because it's been decorated with a sophisticated twist.
I have no trouble imagining that my favorite place in the whole house would be sitting on the back porch, curled up on a wicker armchair, reading a good historic novel based in the South.  All while sipping a glass of ice tea as the sheer curtains gently billow in the warm summer wind.
See, I told you I was a romantic.