Of all the books and speeches I've read and heard on leadership and professional development, there is one author/speaker who consistently is my game changer.
Meet Dr. Henry Cloud, writer of such good reads as Integrity, Boundaries for Leaders, Necessary Endings and many more.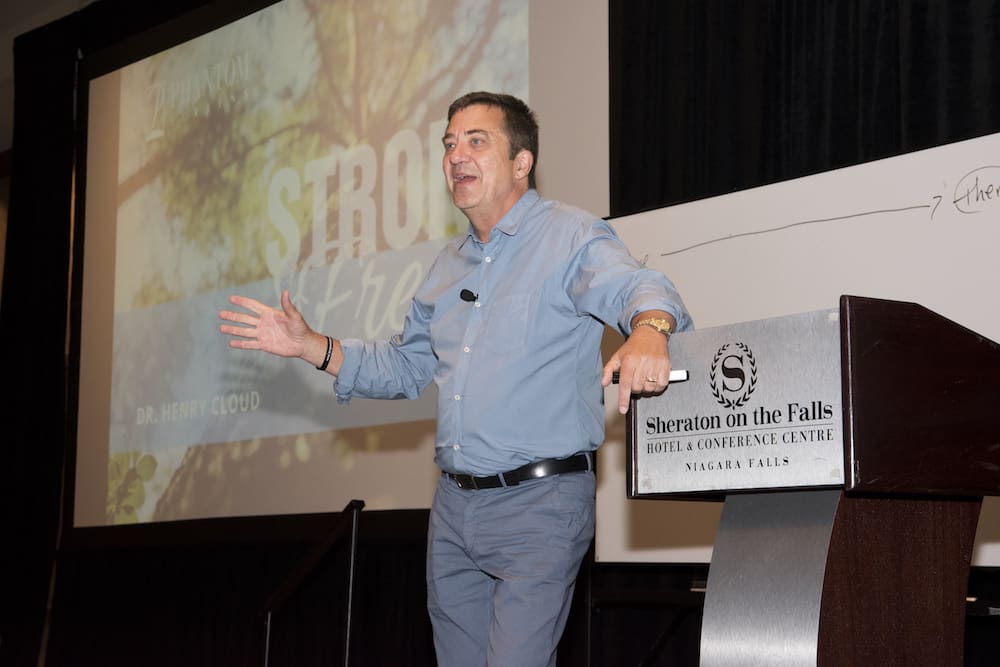 I'm a huge fan of his work. His ability to inspire grounded thinking and action within my own leadership makes him one of my 25 Persons of Influence to celebrate our 25 years in business. When we were planning for our 25th Celebration for our customers in Niagara Falls, Canada this week, it made perfect sense to me to have Dr. Cloud come speak to us all.
And speak he did.
He is one gifted fella. I tried to be mature, and act all business-like while sharing the stage with him. But before I could stop myself, I publicly admitted I was like a stalker fan and, if he didn't mind, could I please just touch the hem of his robe?
True story, there's a picture to prove it.
Thankfully, he took it all in his stride. His microphone produced a nasty screeching noise from feedback when I came on stage to thank him, but he just laughed and explained it was a built-in police protection radar.
Seriously though, as a clinical psychologist, he excels at breaking down the seemingly complex into bite-sized chunks of advice to help you move forward in pursuit of making life better for yourself, others and your company.
One of the best pieces of advice I have learned from Dr. Cloud is found in his book Integrity. It is to consider the "wake" one leaves behind them-self while plowing through the waters of life.
He points out it doesn't matter how great a person is if they are leaving injured or dead soldiers in their "wake".
Applied in a work setting, when you have a staff member who does the task side of their job incredibly well, but fails to handle their people with respect and care, then no matter how good that person is, they need to be invited off the team to save your culture from the poison.
Heeding this advice can be extremely hard, but I have seen its benefits many times over and Dr. Cloud is right. The long-term gain always exceeds the short-term pain.
Are you struggling with something in your own life but don't like to read self-help books?
I get it – but you don't have to miss out. There are plenty of clips by Dr. Cloud on YouTube for you to watch and be inspired to make a leap of faith or next step to change your situation.
Thank you Dr. Cloud for changing so many lives … including mine.