It's funny isn't it?
You think you know a city from what you see on the TV or a short visit. But the reality is often very different.
Take New York for example. It's a big, bustling, beautiful city. It's a mad, 24 hour, full on, noisy, loud metropolis that's full of millions of people making a life for themselves. For visitors it can be overwhelming. And for a country girl like me it can feel like another world!
But in the midst of this iconic city there's a gem. There's a company, headed by a great guy called Ernie, that took my West Coast view of New Yorkers and turned it upside down.
Ernie Capello is the CEO of a New York company called Window-Fix. With 35 members of staff, Window-Fix is the largest and fastest growing window contractor in the New York tri-state area. As well as being the Authorized Distributor for Phantom Screens in the New York tri-state area, the company specializes in replacing, renovating and consulting on all matters relating to windows, doors and glass products.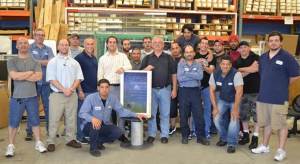 The team at Window-Fix
I met Ernie when he visited our factory for distributor training. What impressed me the most was not only his desire to learn, but his passion for taking his business to the next level. What he's learned from his years in the fenestration business is that customers want what's best for them – not just a good deal.
As he says: "I've built our business on a truly personal and customer focused approach. It's not about offering a product or selling something that you've got a deal on – it's about delivering a tailor made solution for that customer's needs.
And that's what I love – and what Ernie has by the bucket load – a passion and desire to put customers first. That's why I titled this blog post "A heart in the heart of the Big Apple."
Ernie and his team have such a big hearted desire to serve their customers. And that's what Phantom Screens is all about too. So our partnership is one forged by the drive to deliver quality, excellence and an unrivalled experience for our customers.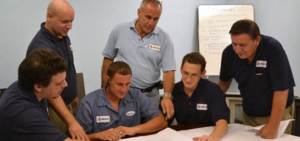 The team at Window-Fix are dedicated to customer service
We work with many distributors across North America and our most successful partnerships are when we share values. We could just supply our products and leave it at that. But we don't. We work with our distributors to give them the support they need to deliver the Phantom experience which homeowners have come to expect.
"From my point of view, it's rare to find a manufacturer that is committed to helping us to succeed – and not just selling us products", says Ernie. "With Phantom Screens our relationship is much more of a partnership, which I really appreciate. It gives us a great opportunity to expand our business."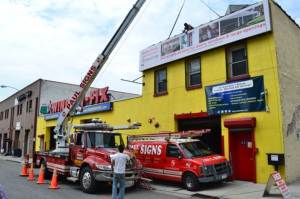 Erecting the Phantom Screens billboard in Brooklyn
So if you find yourself in the hustle and bustle of Brooklyn and look up and see a huge Phantom Screens billboard then think of Ernie and Window-Fix and remember that there are still companies out there that put customers first.