I promised that every now and again I'd have guests to write a blog post or two. Well, I'm very happy to let you know this week Lauren Clark from Somfy Systems has taken the spotlight! Somfy Systems supply the motors for our Executive motorized screens.
I asked her to write about how home automation is becoming more popular and how it works in the home. She's written this post imagining what life is like when it's all connected.
Home automation aims to make daily life simpler by combining home systems – lights, thermostats, locks, cameras, motorized insect screens and solar shades, security systems, audio/video and others – for control either automatically or at the touch of a button, even from your smartphone, tablet or PC.
"That all sounds great – but how can all this technology improve my day-to-day life?"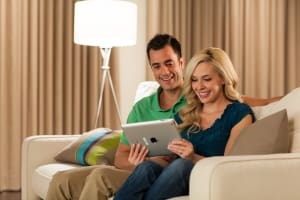 Control your home with your tablet or smartphone
By making it easier than ever to have your home just the way you want it. Imagine coming home after work where a "Welcome Home" setting has been activated automatically – landscape lighting illuminating the way to the front door, your foyer, family room and kitchen lit and ready to relax, and the temperature just the way you like it. Or better yet, hosting a backyard barbecue and wowing your guests with motorized insect screens lowering into place, porch fans on, and party music playing in the background, all from an app on your smartphone.
Not only is home automation convenient – it can make your home more energy efficient. Automating temperature and lighting makes sure that you're wasting less energy. No more lights left on accidentally or air conditioner running while you're out of the house. Creating the perfect atmosphere and increased comfort and security are also benefits of a home automation system.
Here's a snapshot of what your day could look like with a home automation system:
6:30AM – "Good Morning"
Alarm disarms
Master Bedroom & Bathroom: lights turn on at 70%
Thermostat: 78 degrees (warm weather "at home" setting)
Audio/Video: Tuned to your favorite news station for a morning traffic update
9:30AM – "Daytime Away"
Alarm arms
Whole House: All lights off to conserve energy
Thermostat: 82 degrees (warm weather setback)
3:30PM – "Kids are Home"
Camera & Locks: Send alerts to notify that kids are home safe
Thermostat: 78 degrees
7:00PM – "Relax"
Porch: Motorized insect screens lowered for comfort, porch fans on
Landscape lighting: on for atmosphere
First floor: Lights at 50% for ambiance
Audio/Video: Favorite music playing outside
11:00PM – "Goodnight"
Alarm arms
Whole house: lights off
Hallway: Night light on for safety
Thermostat: 82 degrees
And these setting don't have to be on a schedule – everything can be activated at the touch of a button from your smartphone, in-wall keypad, handheld remote, tablet, PC and more.
So there you have it! It's pretty awesome to imagine your home being connected in such clever ways. And of course, no matter which home automation system you choose, Phantom's motorized insect screens and solar shades can easily be added, making sure you've got control of all your favorite products at your fingertips.
You can find out more about Somfy Systems here, and their home automation system here.
What would be the part of your home you'd automate? Have you already got a home automation system and what do you love about it? I'd love to have your comments…